NEMA L14-30P Male to 4X 5-20R T-Blade Household Outlet Female with Dust Protection Caps, 10 Gauge 30 Amp 125/250V 7500W Blue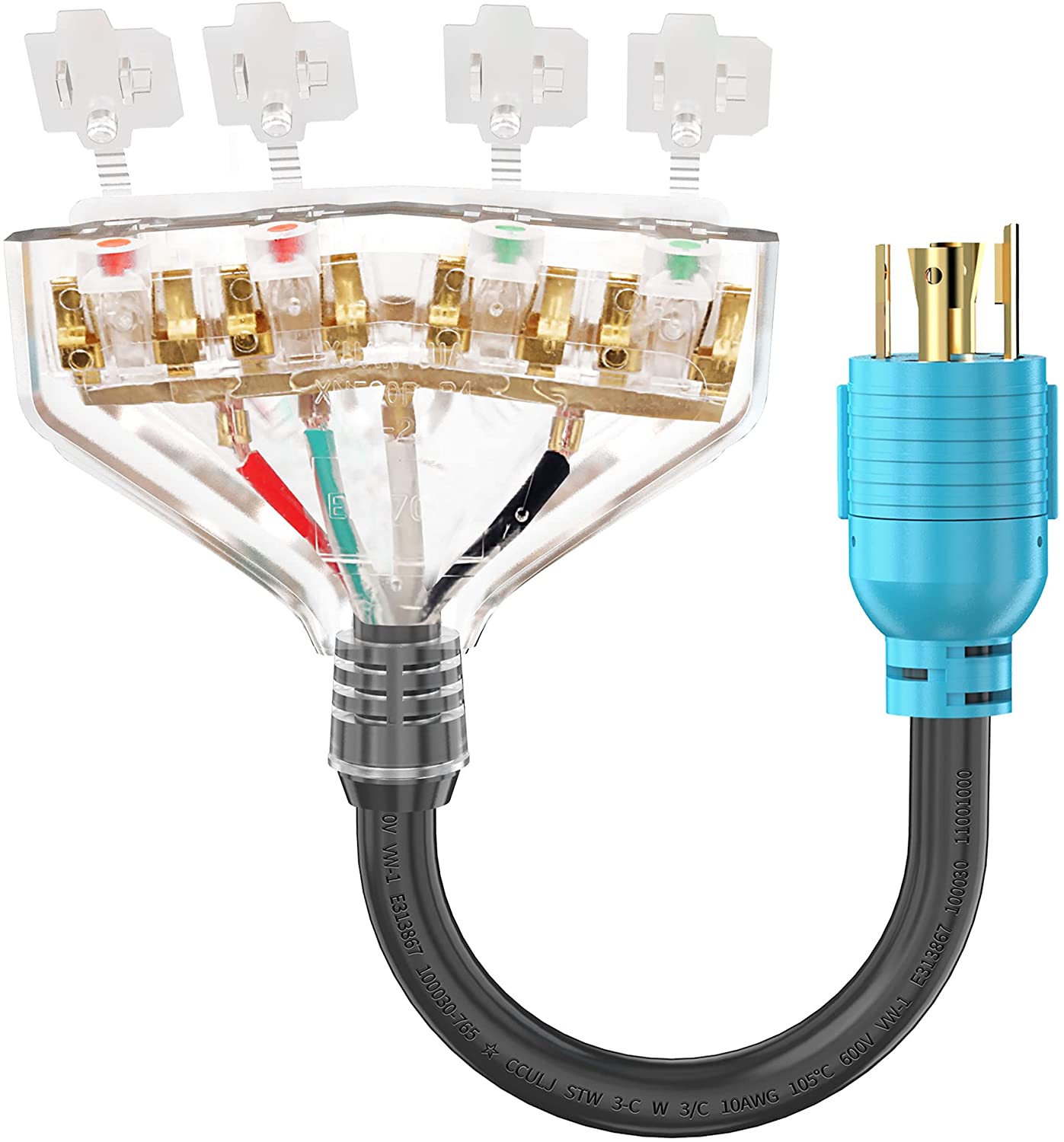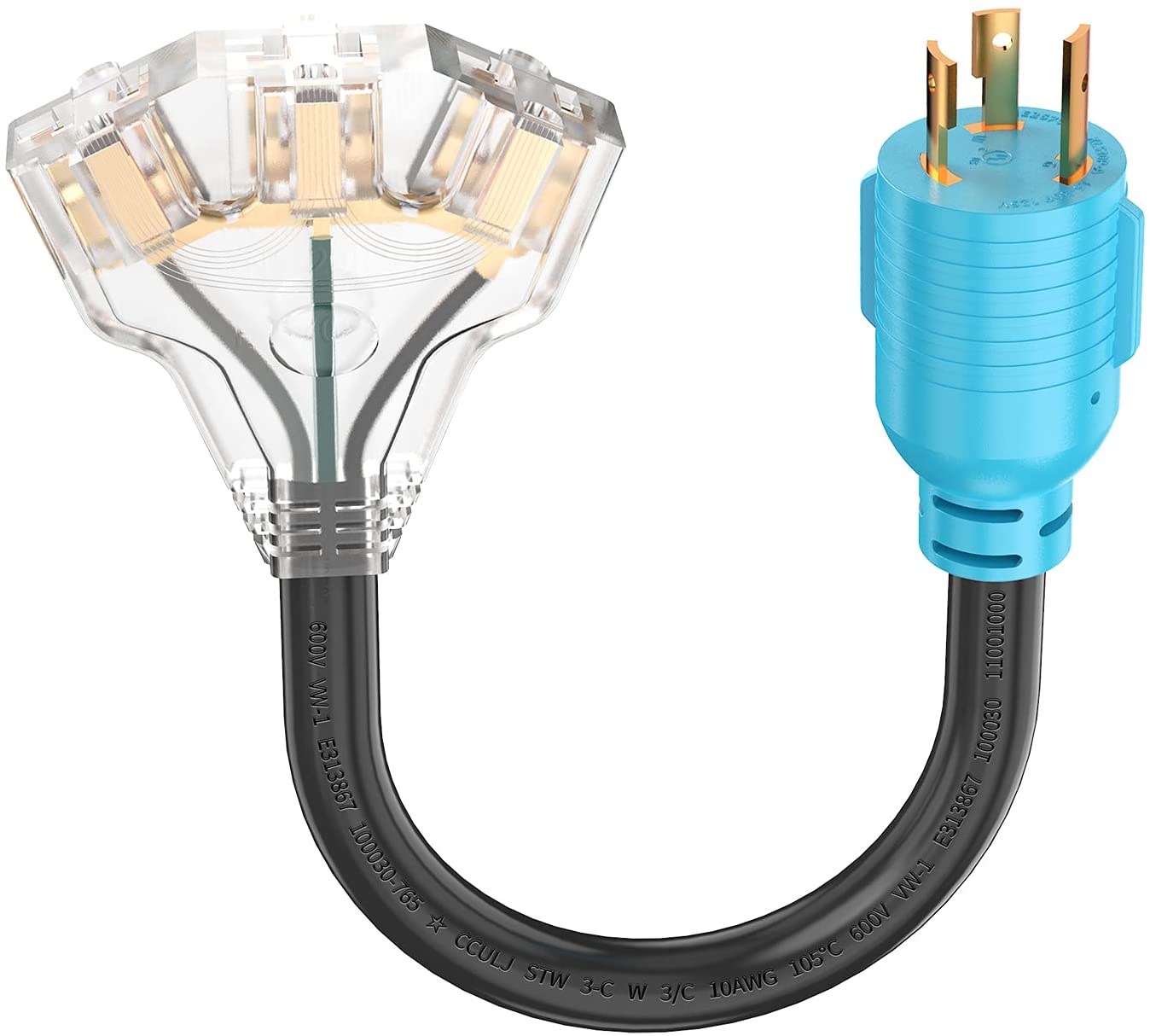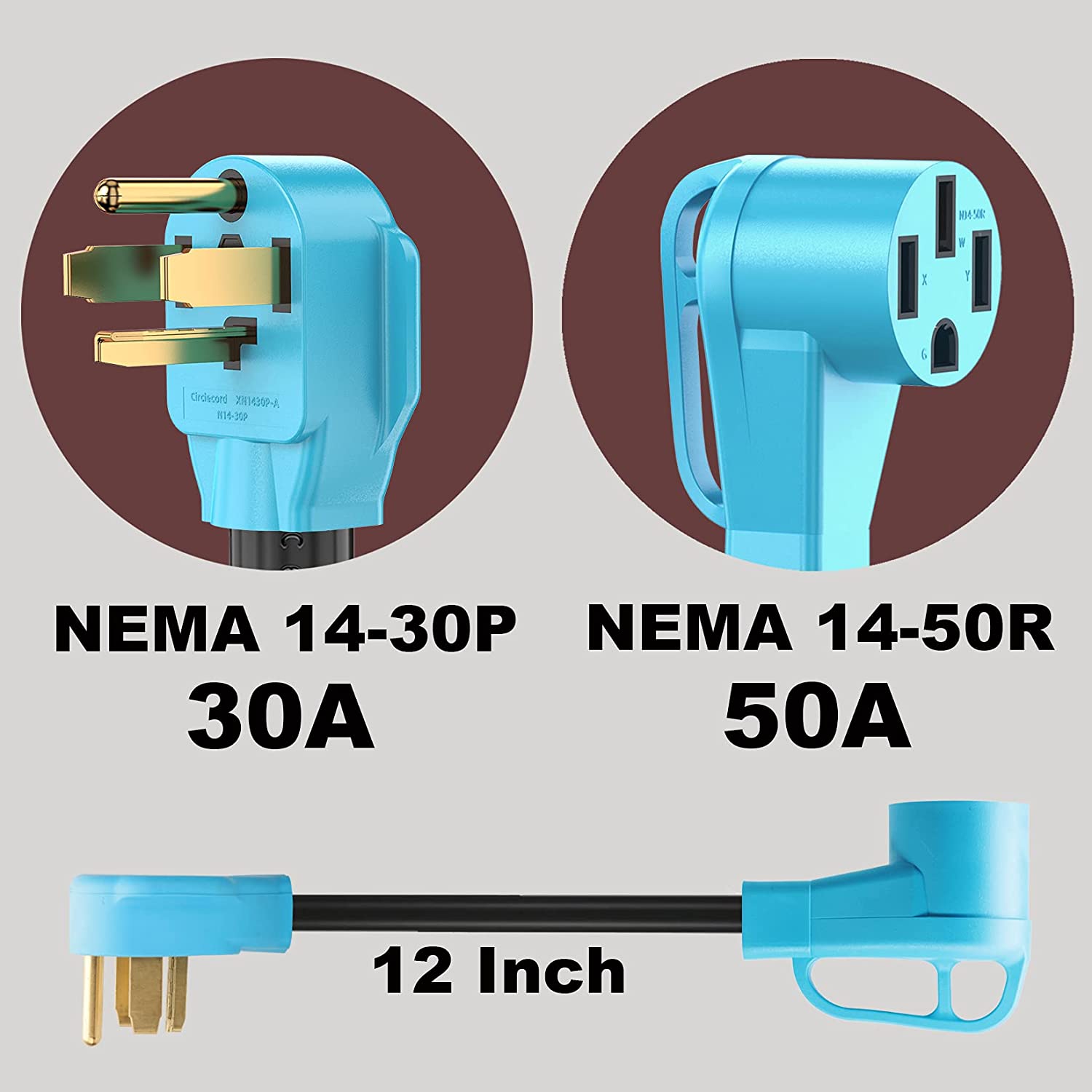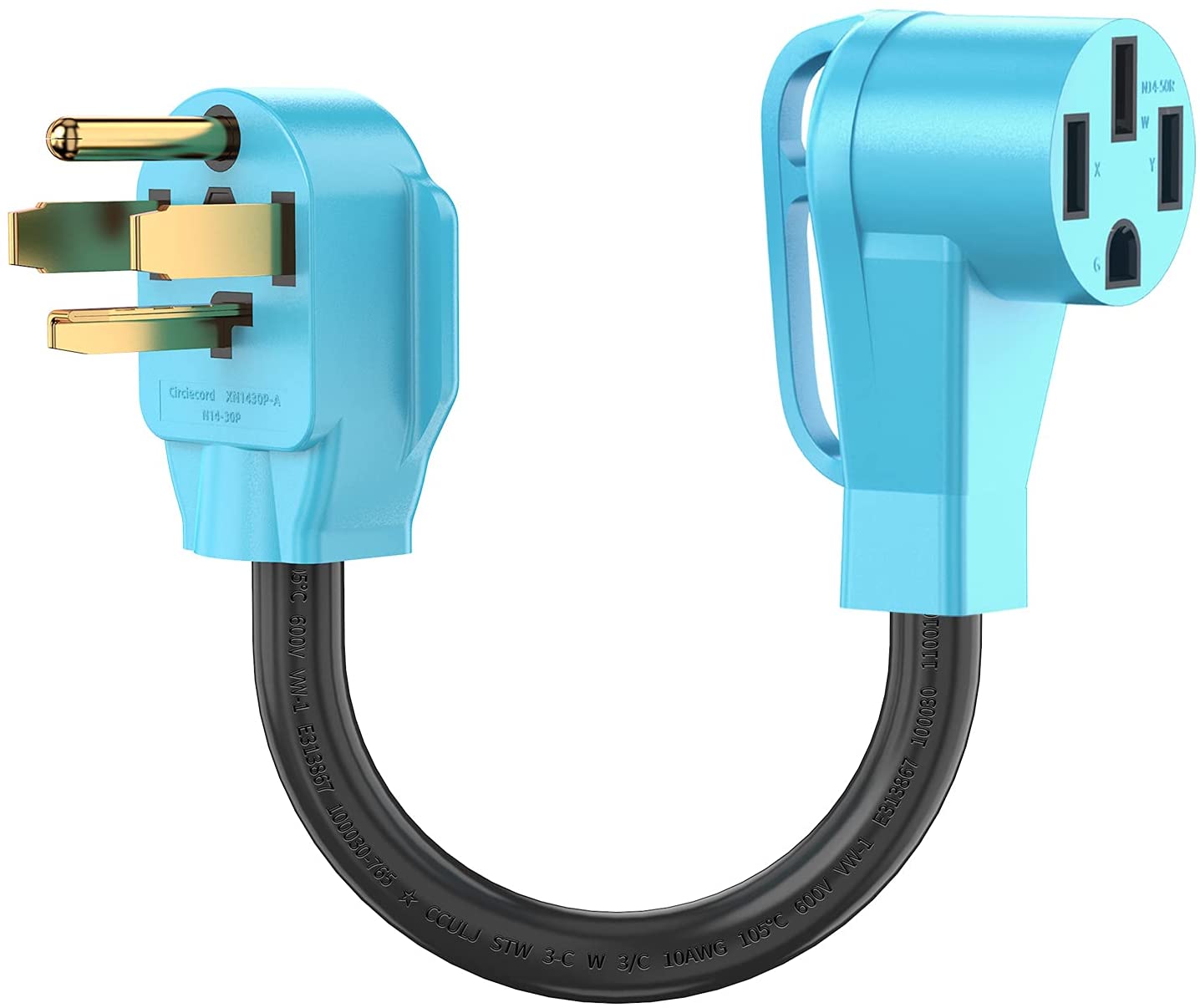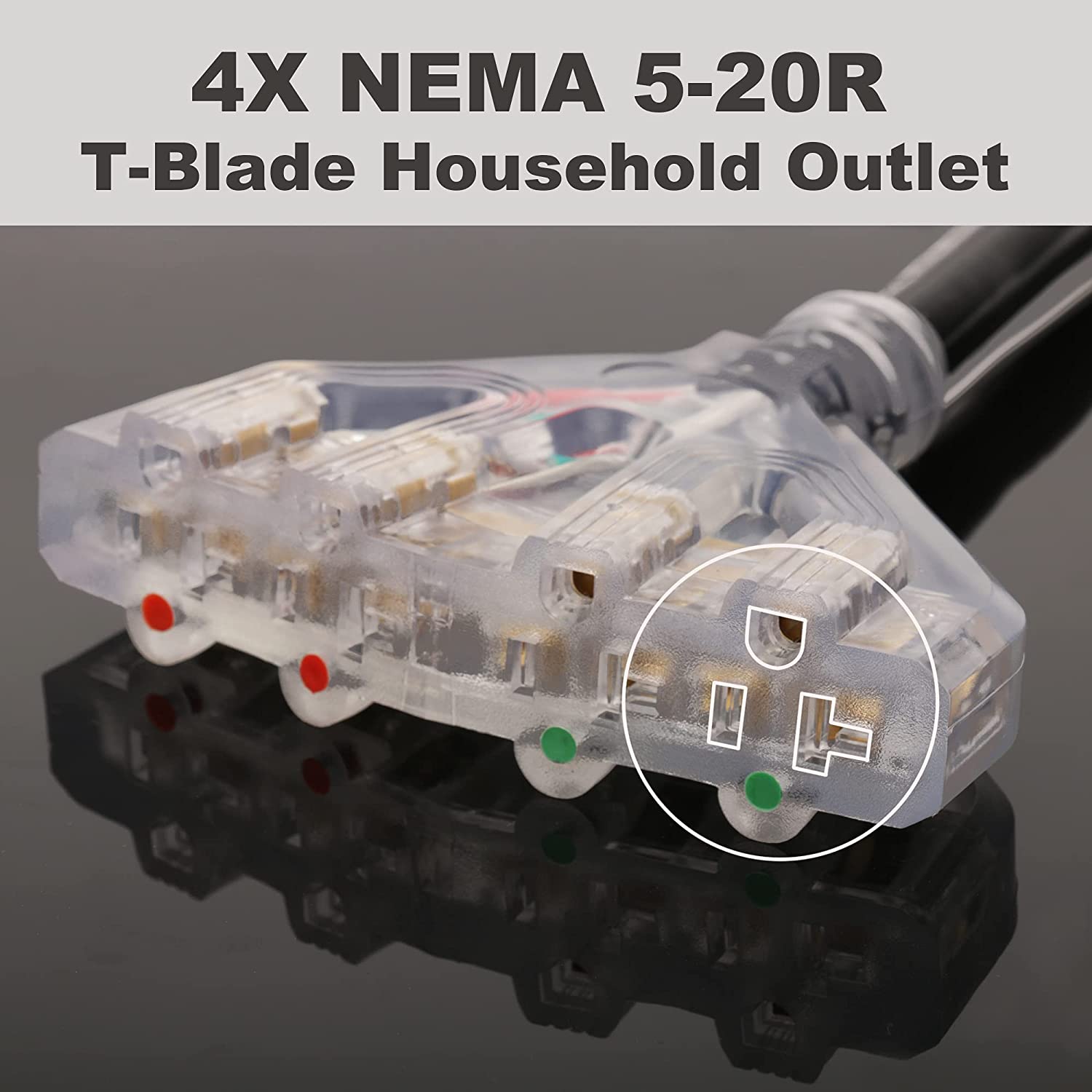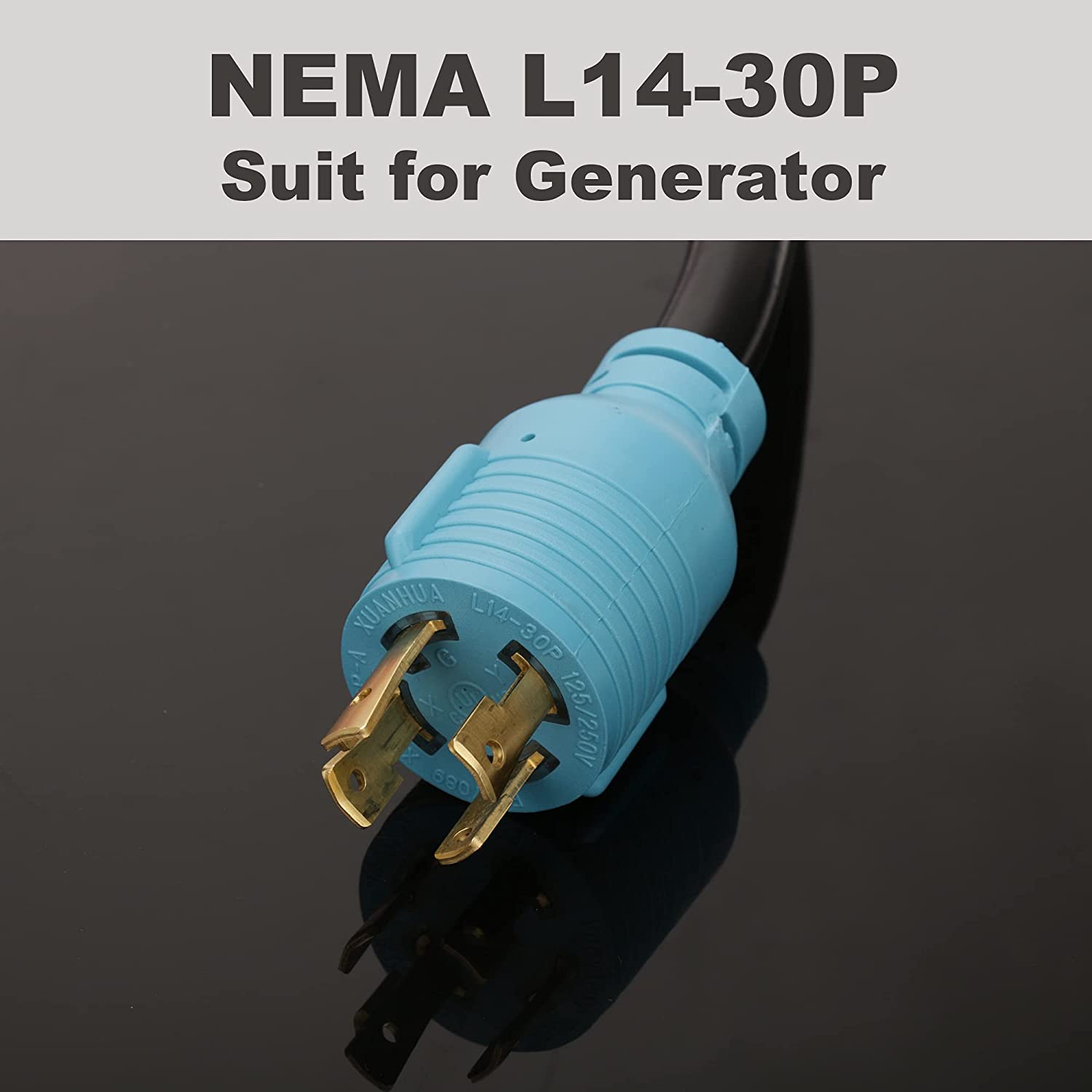 [ELECTRICAL RATING]NEMA L14-30P male for RV or generator power socket, 4X NEMA 5-20R T-Blade household connectors for household electrical appliances and tools, 10 Gauge 30 Amp 125/250V 7500W 12 inch.

[MULTIPLE USE]For construction and industrial use such as disaster recovery, restoration, renovation or maintenance projects, also for RV camping.

[Heavy Duty]Molded plug, copper wiring coated wire, heavy duty flame retardant, UV-resistant, STW indoor/outdoor water resistant PVC jacket in UL 62 standard, and plug in UL 817 standards.

[PROTECTION CAPS]The clear end receptacles with dust protection caps, provide more safety.
2-pole 3-wire Plug 5-15p to IEC 320 C13 applicable cable:
18/3 SJTW/SJTOW/SJTOOW SPT-2 SJT/SJTO/SJTOOSPT-3 SJ/SJO/SJOW
16/3 SJTW/SJTOW/SJTOOW STW/STOW/STOOW SPT-2 SJT/SJTO/SJTOO SPT-3
14/3 SJTW/SJTOW/SJTOOW STW/STOW/STOOW SPT-3 SJT/SJTO/SJTOOSJ/SJO/SJOW

Power CordSet Drawing
The North American NEMA 5-15 is the standard 3 wire wall receptacle found in the United States molded with IEC 60320 C13 connectors and usual SJT , SVT Cables 3FT,6FT AS Appliance Cables. 

NEMA 5-15P To IEC 60320 C13
Power Cord
        Ningbo Niuteng Electric Co.,Ltd is China leading power cord manufacturer having the best manufacturing capacity to provide thecheapest prices,best quality and lead times for Power cords upon our long policy of lower prices with high volume export.Weactually manufacture the connectors and extrude the wires in-house which produce the best variety of AC cords,extensioncords,rubber cables,wiring harness available anywhere. All products are RoHS and REACH compliant.We offer the widest selection available for OEM Power Cords, custom Power Supply Cords and International AC cords.we are 24 hour turn around for custom powercord quotes and drawings.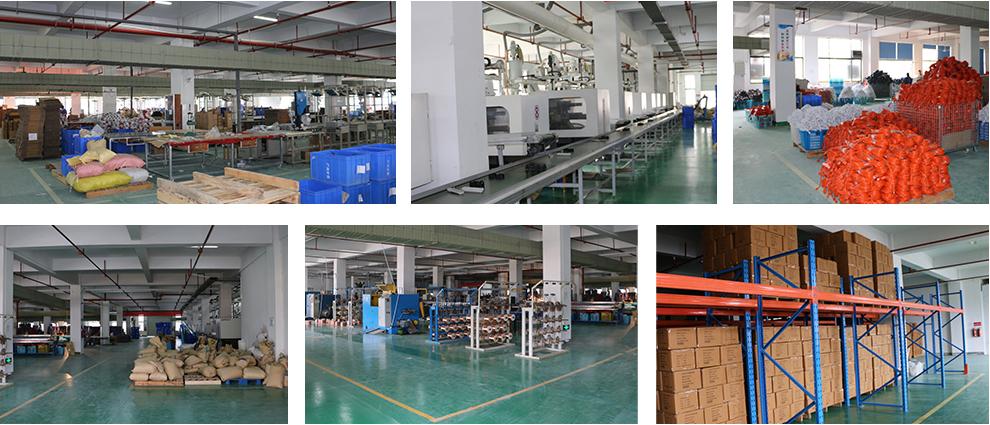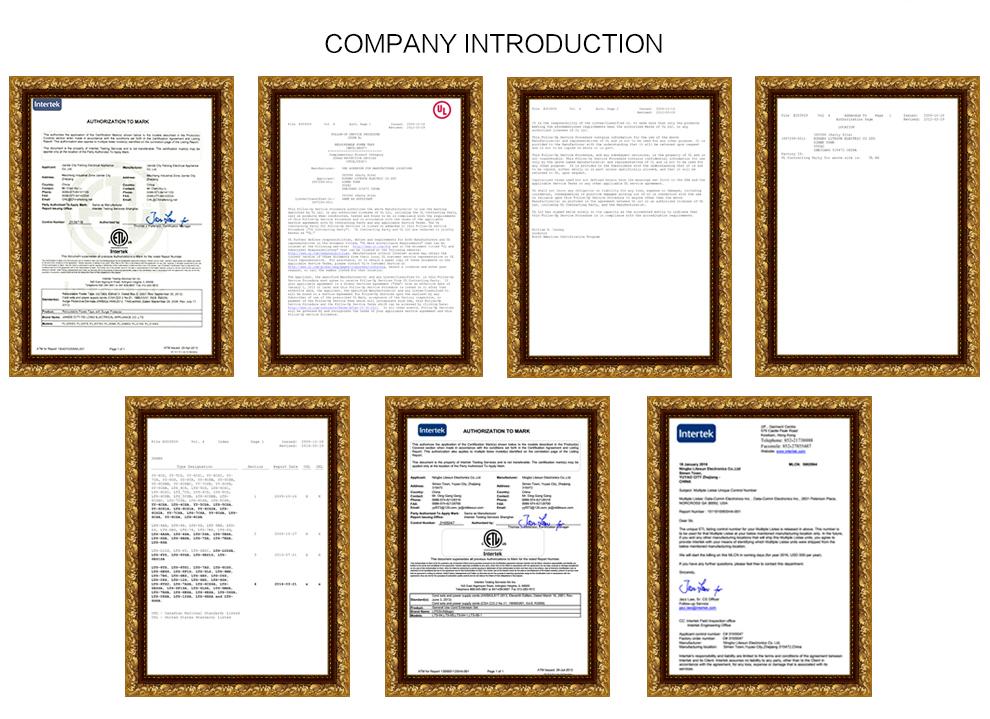 Packaging Details:Standard Exporting Carton Box
Quantity
 according to the size an length of the goods.
Delivery: 
15-25 days after the payment.